Today was Elspeth's 5th birthday party.  What a happy girl.  I can't believe that in just a week my little will be 5!  What was the theme of the party?  Why Frozen of course!  Is there any other party theme at the present time? 🙂  We had bought her a Elsa dress for her birthday but it seemed that today was the best time to give it to her.  What a lovely smile we received in return.  No fears, we didn't leave Katrine out.  I recently found an Olaf t-shirt on sale when I was out running errands.  Our party assistant was not only thematic but loving her new outfit.
The decorations were simple.  A combination of bought (donated by wonderful friends after their daughter's party – thank you, you made Elspeth happy) and homemade.  My favourite decorations were the sign made by Elspeth and the Pin the Nose on Olaf game.  It was Katrine's brain child.  She took it and ran with it. The funny thing about the game was how each player, inspite of having a blindfold on, managed to get Olaf's nose in the correct place.  Birthday party luck? Fluck?  Don't know, but they had fun which is what matters.
Because it is a young kid's party we had a lot of options.  That way they could move from an activity to another when they became bored.  As long as they were happy it was all good.  We did plan one whole group activity so that we could get the food out while the children were otherwise occupied.  It was an Indoor Snowball Fight!!!!  Balls of stuffing being flung through the air at each other and oft times at the adults.  Laughter, laughter and more laughter.  I would highly recommend this as a party activity.  In fact, I am saving it for the girls to use this winter on those super cold days.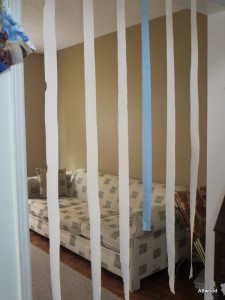 We finished up with treats and then gifts.  I have to admit that I love giving the kids parties.  I have such great memories from my own childhood parties.  They rocked and thinking of them always makes me smile.  One part that I have fond memories of are my mom's cakes.  One year she made me a teddy bear sitting up and another my very own Cabbage Patch Kid.  It was awesome.  My girls love to make cake and gladly stood outside with their dad mixing up the batter yesterday.  The gladly iced them and covered them with blue sugar.  They proudly served them today but it was the guests who ate them.  Both girls declared "We don't like them."  Sigh.
Here is my question to you.  What do you do instead of birthday cakes?  Suggestions welcome.