Happy Thanksgiving!!!  Also known as turkey and ham feasting weekend!!! Mmmmmm.
We began with my family's celebration.  It is always great to see everyone.  I know it hasn't been that long but the kids are all growing up so fast.  I mean my niece is in high school so it is even more important.  She is almost grown up :(.  Too fast.  Gotta really make the most of this time and the kids certainly did.  They laughed, talked and even had a snowball fight.  I love how much of a good sport their cousins are.  Even though the eldest is  older by four years she gets down and joins in whenever they ask.  They both love it.
This was also the year where I had pie for dessert.  Yup, gluten free pie.  I made Elspeth and myself a gluten free lemon pie in honour of her birthday.  The lovely non-GF pumpkin was made by my sister-in-law and that ended up being for her upcoming birthday.  It was great.
Dinner was of course followed by presents and some time outside in the sun.  Oh, and a nap for grandpa.  Ample amounts of food will do that to you.
The next morning, grandma helped the girls christen Elspeth's new Babycakes maker.  They worked together to create toast cups for scrambled eggs.  No, they were not perfect but they had fun making them.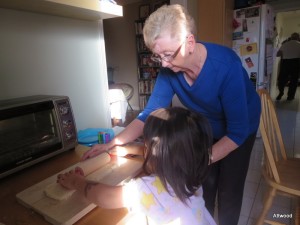 The final surprise of the day was the arrival of drumming socks for Elspeth just in time for her up coming show.