Another skating season brings with it another outfit.  I thought that I would switch things up a bit and take you on a journey through the creation of this next costume (the kid better not grow too much).
It started with a simple dress which I found while browsing in a local second hand shop. (Yes, I have sewed before but the largest thing I created was a toddler jumper dress which I had to call my mother in law in to help with so I have not worked up the courage to try to actually sew one of these things).  It may have been simple, but I saw potential.  Plans started to form.
I got the bright idea that I should try something different and instead of gluing the ornamentation onto the outfit, I should hand stitch and bead it.  Wouldn't that look great?  Use the same gold as in the sleeve trim for the design, keep it simple.  Let the contrast pop.
Originally the design was to be of a twisting style chinese dragon with the head and upper torso on the front.  The body would wind around the outfit so that it continued with the tail on the back.  Unfortunately I forgot to actually double check the finished dimensions of the design before I began to stitch soooo, it ended up looking different that what I had originally seen in my mind.
First I put on the dragon and fire ball which I outlined in red.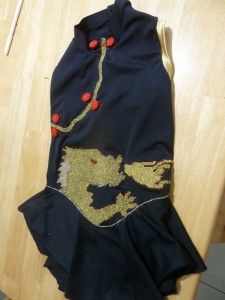 Then, I added a faux chengsan style closure at the neck.
Next, I added beads around the bottom of the skirt for that extra bit of sparkle.
Finally, matching beading around the key hole back.
As I said, I started to work on this at the beginning of May and I just finished tonight.  Beading the bottom of the skirt took at least 6 hours (granted, I was also watching the Olympics at the same time).  I am tired yet content with how it looks.  The question now is: Will it sparkle enough when she is out on the ice skating or will it look drab and plain?
Oh, there is one more thing which you can't see in the above photo.  I hide part of Katrine's chinese name on her dress.  It is on the back of the neck above the key hole.  A tiny little red Fu.  It means lucky.  Fingers crossed that it brings some luck her way.  Now what to do with her hair……